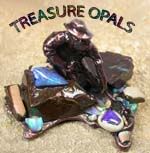 TREASURE OPAL PRESENTS: OPAL DOUBLETS

Beautiful Australian opal doublets set on natural ironstone backing.
Size: 7 x 5 mm

Weight: 9.28 cts

Brightness: 4

Body tone: N2

Opal doublets, as the name suggest, are made of a thin layer of precious opal cemented onto a backing, usually a piece of black common opal or ironstone. If you would like more information on opal doublets, please visit the opal auctions information site here.
As I am a new seller on OpalAuctions.com, I am offering free shipping.
CLASSIFICATION:
Opal Body Tone Scale as per recommendation by the Australian Opal and Gem Industry Association Ltd.

Brilliance Scale:
1 Faint, 2 Dull, 3 Bright, 4 Very Bright, 5 Brilliant - Gem Quality
Thank you for viewing my auction and goodluck with your bidding. Hopefully you win some treasure of your own!!