We have created a library of article that are must reads for anyone who is interested in Ethiopian opals to help buyers with more product knowledge about these beautiful stones.
Covers Digit pattern in natural Ethiopian opals in gems and Gemology Fall 2013
It has been well documented that Ethiopia has been a major producer since the 2008 discovery of opal at Wegel Tena.According to an article from Gems & Gemology, Fall 2013, Vol. 49, No. 3, it was noted that most Ethiopian Opals have what they call a finger-like composition which is known as a Digit Pattern,(play of color with vertical columns,which are parallel, and mixed of different color transparency. The Digit Pattern assumed to have developed through(1) the deposition of a homogeneous opal layer and subsequent polygonization in the form of vertical columns;(2) preferential alteration of this layer at the vertical grain and sub-grain boundaries, creating the digit shape; (3) precipitation of a new silica gel in the space between the digits; and (4) the drying and solidification of the opal. Although polygonization in the form of vertical columns is a growth process typical of synthetic opal, the post-growth alteration of these columns into digits and the deposition of matrix are observed only in natural opal.
Ethiopian Opals is naturally porous, meaning it is like a sponge and absorbs water very easy. This causes instability in the stone, which can lead to cracking. The probability that it will crack when immersed in water is more prominent in Hydrophane, with a body color of not just white, there is a certainty of artificial coloring because if it can absorb water it can also absorb dye, therefore there should be an awareness when looking through this type of opal.
It had been reported that suspicion had been raised due to discovery of
distinct bodycolor of Opal discovered in Mexico which is purple and that this color is artificial. It is suggested these opal deposits from this region are dyed
Opals found in this region are mostly white some even have vivid play of colors.When soaked in water the opal becomes clear or transluscent resembling hydrophane properties. It had been noted that the crystal and fire opals from this region are more stable. It had been established that there is high deposit of this gem quality opals from this region and can be a great source as noted over 1,500 kg had been mined using rudimentary mining techniques
Above article is very interesting and should be taken seriously. Opals inparticular those from Wollo had been subjected to several tests. Tests included smoke treatment as well as Dye treatment. The test also noted "The deep penetration of the smoke color allows for repolishing if necessary without losing color. Cleaners and solvents did not alter the color in treated stones."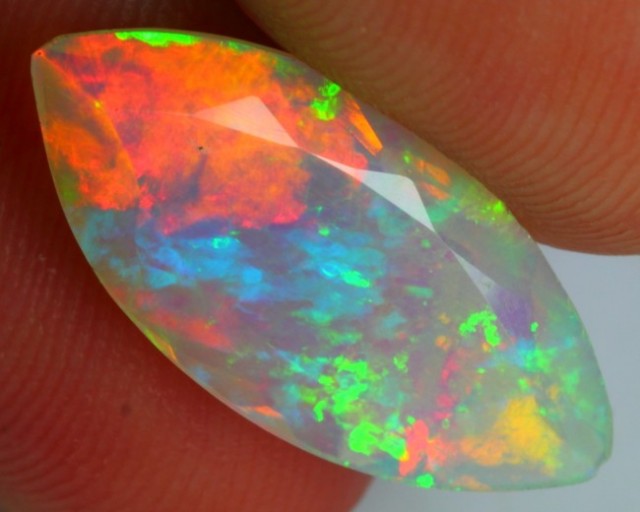 GJEPC Gem testing Laboratory India 1012
The majority of Ethiopian opal is exported to India in the rough, so its important to keep up with treatments in India
An abundance in the marketplace of purple colored Opals from the Wollo Province of Ethiopia have triggered an action to test and examine this color on the opal. The below article discusses the many and varied rigorous testing that has been made
2008 France report on 10 different types opals University Nantes