Advantages of buying Opals on Opal Auctions
.
Since the opening ofopalauctions.com in 2004 we have sold over 180,000 opals to some 64 countries with over one million bids to date.
Our verified online system aims to be as safe andtransparent as possible for bidders as sellers arerequired to be verified throughPaypal, be amember of a trade organisation and to abide by our strict terms and conditions before they are allowed to sell on the site.
Opals are unique and it can be difficult for seasoned and first time buyers to find what they like.On our site buyers can compare all the registeredopal sellers to determine the best prices for the quality they are after,a great advantage for buyers. The site also contains helpful tips under the learn tab as everyopal is uniquefirst time buyers sometimes need more information. Opal Auctions has the largest collection of opal on the internet so buyers can easily compare and find items.
One of the best advantages of this site is that all thesellers are on the same level playing field, they arecompeting against each otherfor your business. This has many advantages for the buyer and tends to allow you to buy atwholesale prices.
(A). No Reserve auctions-sellers do compete against each other to offer best value for buyer
(B). Enhanced images are not allowed and Opal Sheriff program monitors listings.
(C).No over exaggerated descriptions of opals
(D).Most important aspect is that sellers have to compete and must follow market trends or they will have low sales.
(A) Our no reserve auctions are popular for first time or repeat buyers.
First time buyers should be aware of bidding wars and not to enter bidding war unless they really desire the opal as it is easy to get carried away and keep bidding.
Always set you maximum price when bidding on No Reserve Opals
(B) On many online sites, images are completely enhanced that it makes it hard for legitimate sellers to compete.
On Opalauctions all if sellers use black image they must also have image on hand or neutral background as most opals on black background look enhanced.
When buying an opal always ask for image of the opal on hand as if enhanced the skin colour will go yellow or grey and that will inform that the opal has been over enhanced.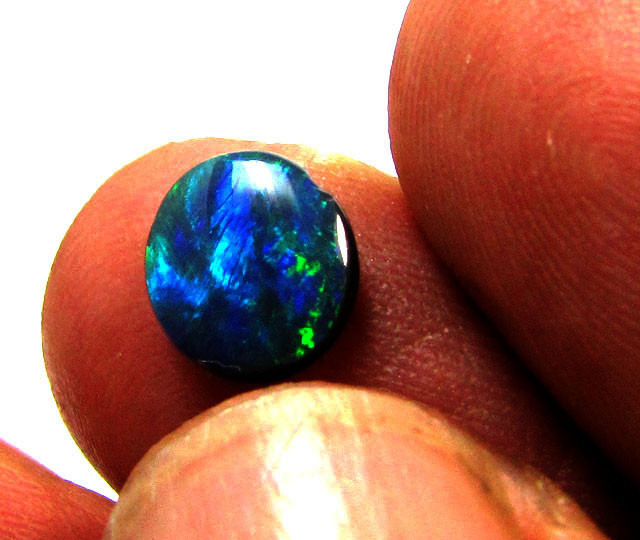 Image on left is with image enhanced to make the opal brighter but note the hand has yellow image
Image on right is accurate colour for opal and skin in normal colour
Enhanced images are mostly black or white background so always insist on hand shot o gauge colour .
(C) Other sites will over exaggerate the opal by naming opal as museum quality or Harlequin pattern.
On Opalauction sellers require permission from the Opal Sheriff to name anopal Harlequin pattern or to use the word Museum Quality. If it is Museum quality it should be in a museum!
Be careful of over exaggerated wording to sell an opal.
Today many E—- sellers listed smoked Ethiopian opal as black opal from Australia.
As anexample here are images from ebay of museum quality black opals, most state Lightning Ridge in the header or Australian opals when they are obviously not, but note how many feedbacks on on each listing.
So many people have purchased black opals thinking they are from Australia when they are only smoked Ethiopian opal.
Opalauctions sellers are verified and professional and would not list fraudulent listings .
Below are fraudulent listing on E—- and notice thelarge feedback each seller has.
This opal E—- Sellers feedback 2900 This opal E—- Sellers feedback 13200 This opal E—- Sellers feedback 27100
These sellers would be suspended off Opalauctions and banned for life, but they would NOT even be able to pass our tests to be a verified opal seller in the first place.
Ethiopian Chalama Black Opal is Ethiopian crystal opals treated to resemble black opal.
The opal is smoked as Hydrophane opal absorbs moisture it also absorbs treatment.
Opalauction sellers have to disclose treatment but many sites sell as Black Opal.
Lightning Ridge black opal is extremely rare and Ethiopian treated black opal is only worth fraction natural opal
Caveat emptor – buyer beware.
If it sound to good it probably is!
VERIFIED OPAL SELLERS ONLY ON OPALAUCTIONS
The best advantage of buying from oursite is that the opal sellers compete against each other for your business creating a level playing field for buyers.
For example we have seen many opal buying trends over the last few years
When Koreans were heavy buyers of Black opals at lightning Ridge they enjoyed large cabochon black opals. But these were only Body tone 3-4 and with many grey bases but brightness was around 4 out five
So miners and wholesalers with this stock asked high prices.
If an opal wholesaler was selling to the Japanese opal market they would sell small black gems body tone N1 for thousands per carats when opal wholesalers selling to usa would only charge few hundred dollars for similar opal.
Koroit opal miners might have a strong German buyer and obtain a pricehigher than in other markets as sometimes sales are negotiated.
Even today many sellers for Ethiopian opals have different markets and each price accordingly.
So a lot of sellers on one siteoffering opals at market value can be a great advantage to first time opal buyers.
Articles recommended for first time Opal buyers are
http://www.opalauctions.com/docs/opal-information/article-how-to-buy-opals-on-the-internet
For Ethiopian Opal
http://www.opalauctions.com/docs/opal-information/ethiopian-opals-grading-chart
Black Opal
http://www.opalauctions.com/docs/opal-information/black-opal
http://www.opalauctions.com/docs/opal-information/black-opal-brightness-and-pattern-charts
Boulder Opal-information
http://www.opalauctions.com/docs/opal-information/boulder-opal-chart
Coober Pedy Opals
http://www.opalauctions.com/docs/opal-information/coober-pedy-opals
How to care for opals
http://www.opalauctions.com/docs/opal-information/how-to-care-for-opals
And many more articles