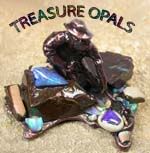 TREASURE OPAL PRESENTS: OPAL DOUBLETS

Parcel of 12 beautiful Australian opal doublets set on natural ironstone backing. These stones are very bright and are great value for money. They are ideally suitable for jewellery.
Size: 8 x 6 mm

Weight: 9.90 cts

Brightness: 4

Body tone: N2

Opal doublets, as the name suggest, are made of a thin layer of precious opal cemented onto a backing, usually a piece of black common opal or ironstone. If you would like more information on opal doublets, please visit the opal auctions information site here.
CLASSIFICATION:
Opal Body Tone Scale as per recommendation by the Australian Opal and Gem Industry Association Ltd.

Brilliance Scale:
1 Faint, 2 Dull, 3 Bright, 4 Very Bright, 5 Brilliant - Gem Quality
Thank you for viewing my auction and goodluck with your bidding. Hopefully you win some treasure of your own!!