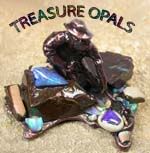 TREASURE OPAL PRESENTS: KOROIT OPALS
This opal is from Koroit, central Queensland (map). These stones have a fantastic polish on them and are left free form shape. The opal colour is very bright and very vivid.

Koroit opal is famous for it's unique patterns and beautiful flashing colours formed inside the ironstone.
Size: 34 x 7 mm

Weight: 29.65 cts

Brightness: 4

CLASSIFICATION:
Opal Body Tone Scale as per recommendation by the Australian Opal and Gem Industry Association Ltd.

Brilliance Scale:
1 Faint, 2 Dull, 3 Bright, 4 Very Bright, 5 Brilliant - Gem Quality
Thank you for viewing my auction and goodluck with your bidding. Hopefully you win some treasure of your own!!