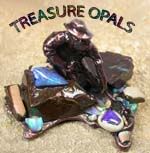 TREASURE OPAL PRESENTS: YOWAH BOULDER

This opal is from Yowah, central Queensland.

Yowah is famous for it's Yowah nuts, but also produces a unique boulder opal with beautiful flashing colours formed inside the ironstone.
Size: 27 x 19 mm

Weight: 27.25 cts

Brightness: 4

Body Tone: N5

CLASSIFICATION:
Opal Body Tone Scale as per recommendation by the Australian Opal and Gem Industry Association Ltd.

Brilliance Scale:
1 Faint, 2 Dull, 3 Bright, 4 Very Bright, 5 Brilliant - Gem Quality
Thank you for viewing my auction and goodluck with your bidding. Hopefully you win some treasure of your own!!