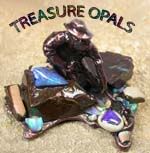 TREASURE OPAL PRESENTS: ANDAMOOKA OPAL

This is opal naturally formed on silica rich sandstone which gives a solid base to the opal. The Andamooka opal fields are known for there hardy fiery opals. Andamooka opals are sometimes treated with heat and sugar ect to give them a black base. This stone has not been treated and is natural.
Size: 25 x 12 mm

Weight: 14.35 cts

Brightness: 4

Body tone: N7

CLASSIFICATION:
Opal Body Tone Scale as per recommendation by the Australian Opal and Gem Industry Association Ltd.

Brilliance Scale:
1 Faint, 2 Dull, 3 Bright, 4 Very Bright, 5 Brilliant - Gem Quality
Thank you for viewing my auction and goodluck with your bidding. Hopefully you win some treasure of your own!!