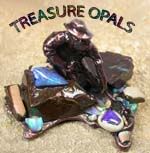 TREASURE OPAL PRESENTS: ROUGH OPAL FOR BEGINNERS

This is natural rough mined in Lightning Ridge, NSW. This is a parcel of larger rough stones that are ideal for practicing on. If you have started cutting opal rough this is a perfect parcel to teach you how to get the best shape and colour out of rough. It will help build confidence so that when you buy more expensive rough you will understand it more. This rough will cut stones with a brightness of about 3.5 (out of 5) but it will cut stones you can proud of.

Weight app: 131.20 cts

We price our opal based on what we expect the rough will cut as a stone wholesale. If your not happy with it return it for a refund provided its not touched in any way.
There are some good opal cutting tips in the forum section on Opal Auctions.
All stones are unpolished. I have added water to the surface of the stone to bring out the colours of the Opal.
Thank you for viewing my auction and goodluck with your bidding. Hopefully you win some treasure of your own!!