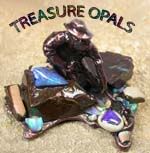 TREASURE OPAL PRESENTS: SOLID OPAL

Very bright opal from Lighting Ridge, NSW. This stone has an amazing green flash that can be seen at most angles. Perfect for a pendant stone.

Size: 10.5 x 6 mm

Weight: 1.05 cts

Brightness: 5

Body tone: N4

CLASSIFICATION:
Opal Body Tone Scale as per recommendation by the Australian Opal and Gem Industry Association Ltd.

Brilliance Scale:
1 Faint, 2 Dull, 3 Bright, 4 Very Bright, 5 Brilliant - Gem Quality
Thank you for viewing my auction and goodluck with your bidding. Hopefully you win some treasure of your own!!