This auction has been suspended by the admin
Your finest source for opals.
`
DESCRIPTION:
Crystal opal with contra luz color plays
This gem has the visual effect of being underwater when held to light. A combination of the facets, color plays and the opal itself create an unearthly effect unlike any other gemstone.
This has been a finished, faceted gem for over a decade now, and none of the cracks that you can see have developed in that time. It is a common practice to leave the matrix and imperfection in the opal because many appreciate the unique beauty, often referred to as "picture opal".
Mining at opal butte is slowing down and as of the last year opal of this quality were literally unseen. The forecast for finding any more precious opal there is not looking good. I have acquired several of these pieces and have decided to let this one go.
WEIGHT:
170 ct!
SIZE:
36x30x29mm (6mm=1/4 inch)
TYPE:
Opal from Opal Butte, Oregon
SHAPE:
Custom Facet
COLOR:
Multi-color veils of contra luz color plays (no face up color)
BODY CLARITY:
Transparent crystal
COMMENT:
EXTREMELY rare, a stunning example of one of Americas most preciouse gems!
---
ETHIOPIAN WELO/WELLO OPAL
Is a relatively new find and rapidly gaining popularity. It has some of the most amazing patterns of any opal, and plays of color that reflect shades of light seen nowhere else in the natural world. Anybody who loves opals I would urge to give this gem a chance. It is easy to become mesmerized by its unique beauty. Because of the hydrophane property of this opal it can become crystal clear when submerged in water and as it dries it will turn completely opaque, and then slowly return to a crystal/ semi-crystal state as it completely dries out which can take anywhere from a few days to several months. Over that time you can watch the opal slowly reveal new patterns and plays of color every day, sometimes gaining colors, and sometimes colors fade away.
---
INNAGEM OPALS
Welcome to Innagem opals. In early 2008 a deposit in Welo, Ethiopia was found where one of the most amazing opals that the world has seen was uncovered. The beauty of this material rivals the finest opals found anywhere else in the world. These gems carry a diverse array of base colors, patterns, as well as almost consistently blindingly bright plays of colors. The find is a truly amazing gift that Inna Gem wants to be a part of distributing among the world.
If you have ANY questions I am more than happy to answer them.
I enjoy working with my customers and getting these gems and minerals out into the world for jewelers and collectors alike. I want to make sure every transaction works out so you are happy with your new gem.
The Ethiopian Welo Opals offered here are the finest that I can get my hands on. We pay the extra dollar to be able to offer the finest and work with multiple miners and dealers in Ethiopia to insure that the finest opals are offered at the fairest price. We are fortunate enough have each opal hand picked direct from the source, each one chosen for top plays of colors, incredible and unique patterns of the most desirable size range. We specialize in the rare and unusual, the most impressive and beautiful so don't forget to look at the other items!
---
All photographs show the best highlights of each particular opal. Photos are taken either outdoors or indoors and are taken with the intent of depicting true color and detail under optimal conditions. I do not use photo enhancement programs or special lenses. All photographs of the Ethiopian hydrophane opals are taken dry as to give a true depiction of what the opal actually looks like. Hydrophane opals can become dramatically enhanced when fully soaked and can give a false impression as to the finished product. Non hydrophane opals will at times be shown wet if in the rough or rubbed state as to show the color of the opal with a pseudo-polish.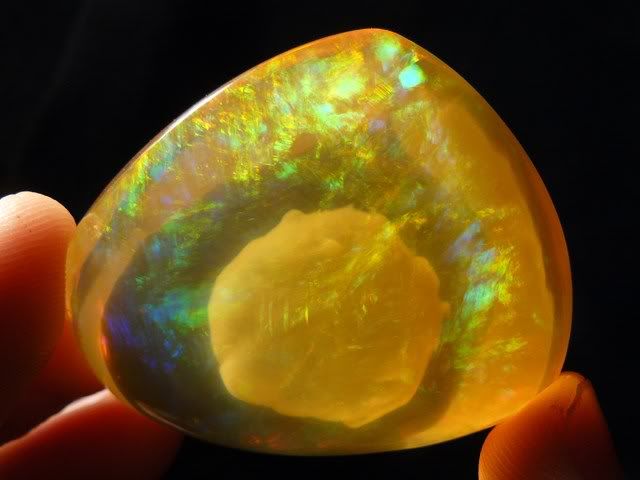 ---
~Your Finest Source For Opals~
Innagem's Shipping, Handling & Return Policies
FREE SHIPPING! Please pay via PayPal within three days of the sale, all unpaid items will be re listed on day 4, unless you email with a special request. All wins will normally be shipped within 48hrs of payment, either from Florida(If shipped by Doug) or Colorado (If shipped by Myself/Mac). Optional Insurance is only for USA and paid for by the buyer, $3.35 for first $100 and $1 per additional $100. There is "no" Insurance for International shipping using the free shipping method that I use, if you would like to insure the package please contact me and we can discuss the best options to your country. Refunds will be given in full if not 100% satisfied within seven days of receiving item. Buyer pays return shipping and insurance is mandatory on all returns. All refunds will be given only through PayPal.
Payment Options
Questions & Comments
This auction has closed
---
This buy it now item can be purchased immediately for $2200.00 USD
---
Verified Seller Details
---
Shipping

$0.00 USD shipping paid by seller

Optional Shipping Insurance

$0.00 USD within United States of America
$27.95 USD rest of World

Pricing

$25.00 USD bid increment
$2200.00 USD starting bid
Reserve price none

Details

Starts March 4, 2012 3:00 PM (PST)
Ends March 10, 2012 8:42 PM (PDT)
Auction ID 294647
Auction viewed 22155 times
---
You might also like...