This auction has been suspended by the admin
Video
DESCRIPTION: An Investment grade Ethiopian Welo crystal honeycomb opal... A very special honeycomb opal with strong vivid colors in all cells flashing out over the entire opal at the slightest movement showing a rare glitter ball effect. It also has a unique and appealing light lavender base color that only enhances its overall beauty. This is one of those opals that seem to have its own inner light source. Having all the best honeycomb features together in one superb opal, this is truly a show stopper and an Instant Investment opal!
WEIGHT: 9.06 ct
SIZE: 19x12x8mm (6mm=1/4 inch)
TYPE: Ethiopian Welo Opal
SHAPE: Fancyshape Cab
COLOR: Multi-color saturated honeycomb with 5+/5 brightness
BODY CLARITY:Rare transparent light lavender base crystal
COMMENT: High dome.
Etimated Retail Price per Carat puts this opals value at over $27,000
---
EYECANDY OPALS
Welcome to Eyecandy Opals. As a professional cutter specializing in opals, I am an admitted unreformed opalaholic that loves to reveal as much whimsical wonder and beauty as a piece of rough opal can produce. It is my goal to allow these opals to lead and guide me, to shape and polish these colorful rustic stones into pure eye candy, to allow them to come into fruition as objects of beauty to pleasure and inspire other opalholics like myself. You can rest assured that your opal has been cut and polished with love, excitement, anticipation and professional skill.
All My Welo rough stock that I use for cutting are select by hand from the mines and are the best of the top grade out of Ethiopia. You are getting AAA+++ Welo opals, professionally cut by myself that is guaranteed stable. All of the opals that make it to final sales have undergone a trial of procedures to ensure stability. Having worked with Welos since the discovery of the new finds, I have developed special techniques and steps to ensure that only the most stable make it to auction. There are no inclusions of any kind that can create future expansion stress cracks. I do not sell non- Hydrophane Welo opals as most are generally unstable and will eventually develop micro fractures over time from a slow drying process. All my Welos are water tested for stability as those that don't achieve total water saturation have never been tested for possible expansion cracks. The removal of Welos from the host rock is a brutal process and micro fractures are not uncommon. This is crucial for owning a hydrophane opal that will be worn as jewelry, as your opal will eventually contact water with normal wear.

My "estimated" retail price is based on my knowledge of opal grading from several professional opals grading reference books, as well as my working knowledge of the Welo Opal and opals in general. I have been cutting and buying different grades of Welo opal, since the discovery in early 2008. I have bought from miners, wholesalers and middlemen and have been cutting Welos exclusively since 2008. I have cut thousands of Welos to date and have been cutting different types of opals from around the world for over 12 years. I am not a certified appraiser, nor do not give appraisals. An actual opal appraisal is only as good as the professional appraisers knowledge of the gems he/she specializes in, so always look for one that specializes in opals to get a true appraisal. One very important component of an appraisal is the replacement value for your gemstone, and is based on many factors. My listed "estimate" retail price is an estimated replacement value for your Welo opal based on my comprehensive knowledge of this type of opal. All opal fields dry up over time and the value of your opal will continue to increase as supply and demand dictates. The highest grade Welos are fantastic Investments, as are all top grade opals from around the world. If you own an investment grade opal, I encourage you to get a professional certified appraisal for insurance purposes.
---
---
PHOTOGRAPHY

All photographs show the best highlights of each particular opal. Photos are taken either outdoors or indoors and are taken with the intent of depicting true color and detail under optimal conditions. I do not use photo enhancement programs or special lenses. All photographs of the Ethiopian hydrophane opals are taken dry as to give a true depiction of what the opal actually looks like. Hydrophane opals can become dramatically enhanced when wet and can give a false impression as to the finished product. Non hydrophane opals will at times be shown wet if in the rough or rubbed state as to show the color of the opal with a pseudo-polish.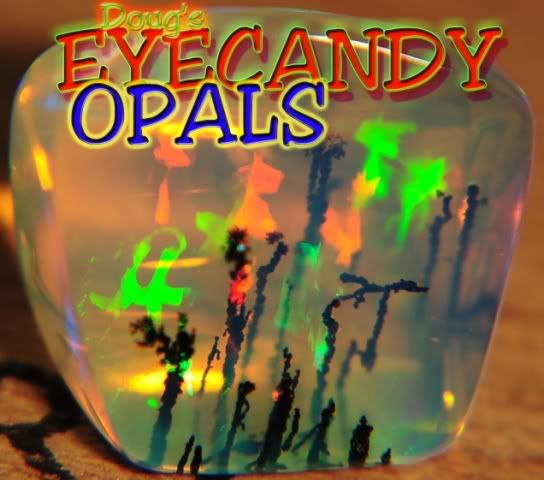 ---
---
---
---
More Information
Weight: 9.06 Carats

EyecandyOpals's Shipping, Handling & Return Policies
Shipping and handling are FREE! Please pay via PayPal within three days of the sale, all unpaid items will be re listed on day 4, unless you email with a special request prior to the 3rd day. All wins will normally be shipped within 48hrs of payment, and shipping is FREE! Optional Insurance is only for USA and paid for by the buyer, $3.35 for first $100 and $1 per additional $100. There is "no" Insurance for International shipping using the free shipping method that I use. Refunds will be given in full if not 100% satisfied within seven days of receiving Item. Buyer pays to return shipping and insurance is mandatory on all returns. All refunds will be given only through PayPal.
Payment Options
Questions & Comments
This auction has closed
---
Current Bid: $

2000.00

USD
14

bids

placed so far

RESERVE NOT MET
$2000.00
baoshilover


May 20, 2011 4:00:32 PM (PDT)

$1800.00
baoshilover


May 20, 2011 3:56:19 PM (PDT)

$1200.00
baoshilover


May 20, 2011 3:55:44 PM (PDT)

$801.00
JCARLOSALICANTE


May 20, 2011 12:04:19 PM (PDT)

$784.00
JCARLOSALICANTE


May 20, 2011 12:02:22 PM (PDT)

$700.00
JCARLOSALICANTE


May 20, 2011 12:01:23 PM (PDT)

$640.00
JCARLOSALICANTE


May 20, 2011 12:01:10 PM (PDT)

$600.00
JCARLOSALICANTE


May 20, 2011 12:00:28 PM (PDT)

$580.00
JCARLOSALICANTE


May 20, 2011 12:00:09 PM (PDT)

$550.00
JCARLOSALICANTE


May 20, 2011 11:56:41 AM (PDT)

$525.00
JCARLOSALICANTE


May 20, 2011 11:56:13 AM (PDT)

$495.00
philbee123


May 19, 2011 11:10:23 PM (PDT)

$450.00
philbee123


May 19, 2011 11:06:29 PM (PDT)

$301.00
Greatwhited


May 5, 2011 5:36:06 AM (PDT)
---
Verified Seller Details
---
Shipping

$0.00 USD shipping paid by seller

Optional Shipping Insurance

$0.00 USD within United States of America
$0.00 USD rest of World

Pricing

$25.00 USD bid increment
$1.00 USD starting bid
Reserve price RESERVE NOT MET

Details

Starts April 29, 2011 4:00 PM (PDT)
Ends May 20, 2011 4:03 PM (PDT)
Auction ID 260301
Auction viewed 948 times
---
You might also like...